If you don't have an Auvik account yet, register for a free trial to get started.
The Windows service can be installed on any Microsoft Windows desktop running a 64-bit version of Windows 10 or higher or any server running a 64-bit version of Windows Server 2012 or higher. The system should have at least one CPU, 2GB of RAM, and 1GB of available disk space. Larger installations will require greater resources with a minimum of 4 CPU threads, 8GB of memory, and 2GB of free space. Even greater CPU and memory allotments may be needed when deployed to environments where the collector may encounter 2,000 devices or over 9,000 interfaces (Interfaces may be virtual or physical) If the Windows machine is performing any other critical functionality, resourcing should be increased to address those needs also. Be aware the Windows service will bind to ports 21 and 69. We recommend you install the service on a system that doesn't already have services bound to these ports.
We recommend you install the service on a system that doesn't already have services bound to these ports.
If you're installing a collector for a new site, choose Install Windows Service from the collector installation options.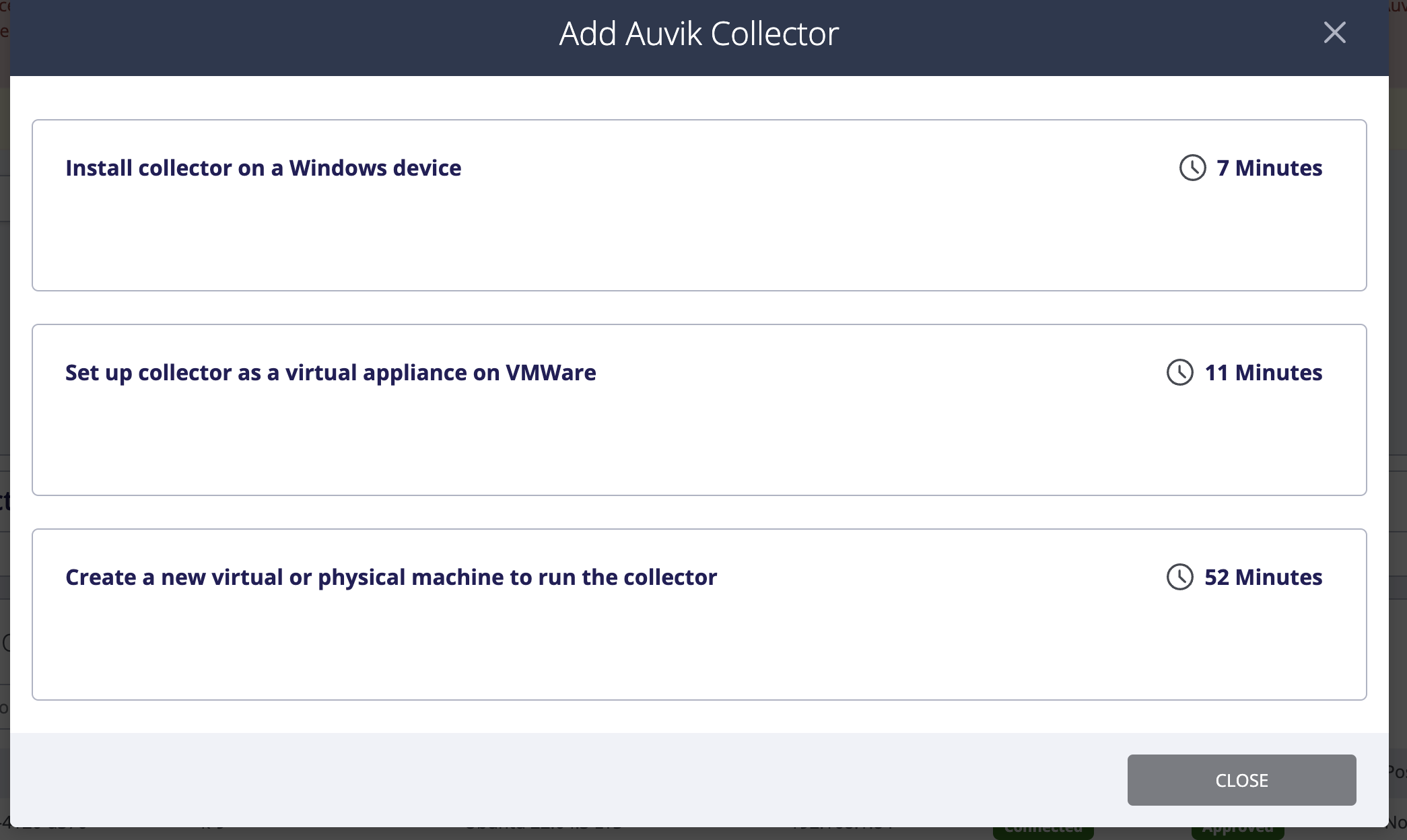 If you want to install the collector on a site where already a collector is or was already installed, click Auvik collectors from the side navigation bar.

Click the

Add Auvik collector

button.

Click Download Windows installer. This downloads the Auvik installer.exe file and generates a temporary API key, which you'll use for installing the collector. Copy the temporary API key by clicking the copy icon beside it. You don't need your Auvik user API key for installing this collector. Click Close to close this window.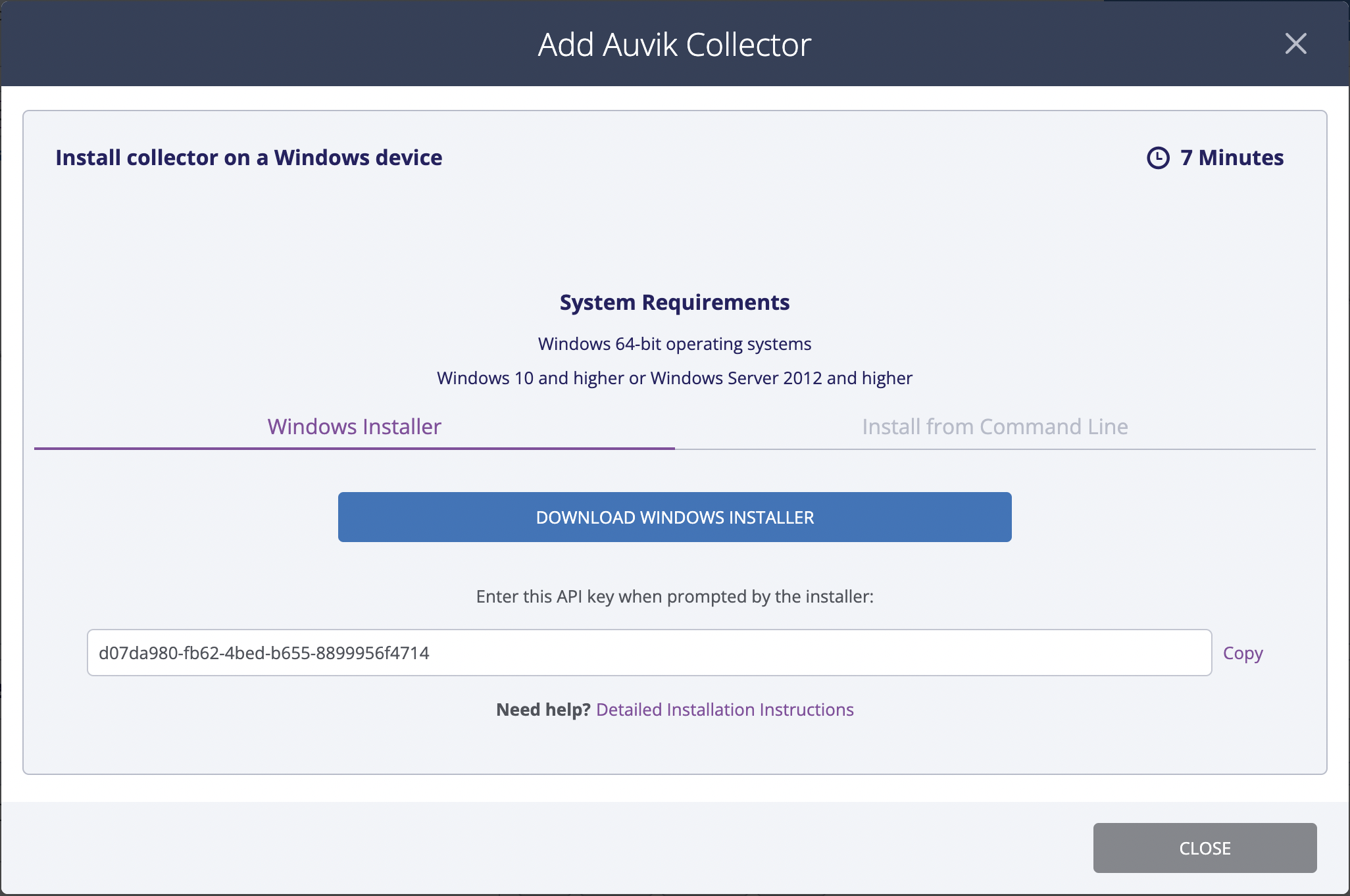 Double click on the Auvik installer.exe file you just downloaded. You may be asked whether you want to install this file to make changes to your device. Confirm by clicking Yes.
You'll be asked to provide your email address, API key, and the domain prefix of the site where you want to install the collector. Fill in the details and click Authenticate.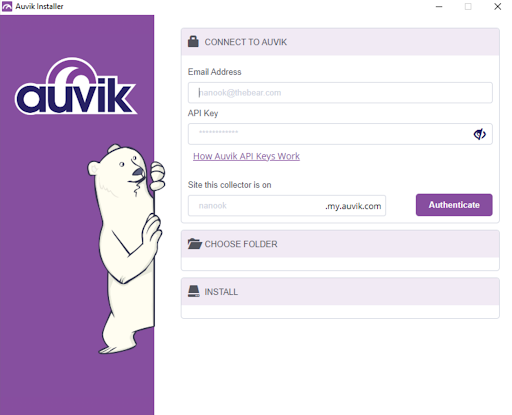 You'll see a green check mark on Connect to Auvik. Now you can change the installation folder to your desired folder or leave it as the default (C:\Auvik). Click Confirm.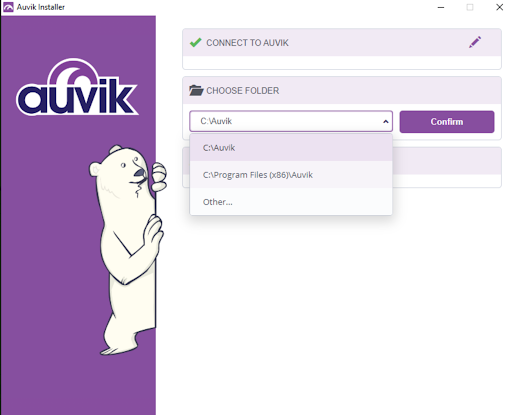 The collector will install. You'll see a message that says "Collector installed successfully." Click  Finish.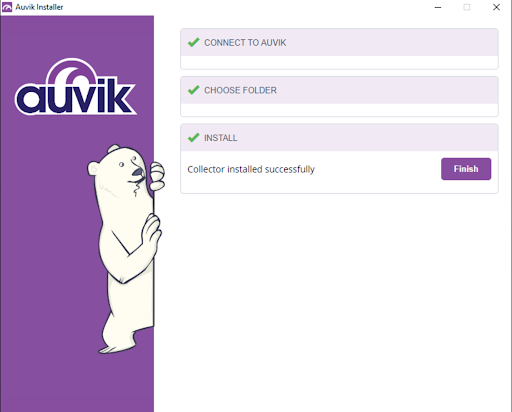 Congratulations! You've successfully installed the Auvik collector.
Note: If you are re-installing Auvik after uninstalling and run into issues, you may need to delete the following registry entry: HKEY_LOCAL_MACHINE\SOFTWARE\WOW6432Node\Microsoft\Windows\CurrentVersion\Uninstall\AuvikCollector
This is removed automatically if the collector is uninstalled from the Add/Remove Program list or through the installer, but it will be left over if uninstalled via the command line option "AuvikAgentService -remove".
If you run into difficulties during this process, try again and make sure that the host machine is connected to the internet. If you're still having issues, contact Auvik support for more help.