With Auvik's search and filter functions, you can quickly zero in on specific portions of your network. To take full advantage of the search and filter features, make sure Auvik has read-only credentials to your network elements.
Using map search
Search is located in the top left corner of your map.

When you complete a search, Auvik highlights all the nodes on your map that match your search criteria, allowing you to quickly scan results.
You can search your network by any of these properties:
Device name
Device type
Device status
Device discovery status
Vendor
Network
Interface name
IP address
MAC address
Connection type
Free text search for any string
You can search for multiple terms at once. For example, you might search for all printers on the marketing network.
The search field is intelligent and will provide suggestions as you start to type. This comes in handy when you can't quite remember the exact IP or MAC address of the device you're looking for.
You can now limit the suggestions by entering the property before the name. For example, say you want to search for a particular device type. Rather than just entering "rou" and being presented with a list of possible properties that match that criteria, you can now enter "device type: router" in the search field for quicker selection of the device type.
Each property can be entered with the full name (device type:) or the initials (dt:). Below, you'll find each available property and how it can be entered before the search criteria. Remember when you enter these to include the colon.
| | |
| --- | --- |
| device name: | dn: |
| device type: | dt: |
| device status: | ds: |
| device discovery status: | dds: |
| vendor: | v: |
| network: | n: |
| interface name: | in: |
| ip address: | ia: |
| mac address: | ma: |
| connection type: | ct: |
Search operators you can use
Auvik automatically assumes an AND operator between different properties and an OR operator between like properties. For example, entering "switch, firewall, network1" into the search field means Auvik would look for a (switch OR firewall) AND on network1.
Below are additional operators you can use. The operators must be entered with a colon after the word, exactly as shown below.
NOT:
Removes items from your search. For example, a search for "vendor: Cisco" with a second parameter of "device name: NOT: CISCO_2801" would show you all the Cisco devices except the one named CISCO_2801.
ANY:
Highlights devices that contain any of the characters entered. For example, a search for "any: auv" will show you all devices that contain "auv" on the map.
FILTER:
Applies a filter, saving you from having to click the Apply search as a filter link. For example, a search for "filter: routers" will show you all of the devices that match that type.
Using map filters
Any properties you use to search your map can also be used to filter. You can easily change a search to a filter by clicking Apply search as a filter below the search bar when a search is active. While a search highlights results on your complete map, applying a filter shows you only the things you've specified and hides everything else.
Want to see only your routing topology, for example? Apply the "device type: router" filter. Want to eliminate some of the noise on your topology? Try filtering out all workstations by adding the filter "not: workstations."
To add, view, or edit filters, click the filter tool (the funnel icon located below search) to open the filter box.
To clear a filter, click the X next to the filter option you want to remove. Or click Remove all filters below the search bar to remove all entered filters.
Quick filters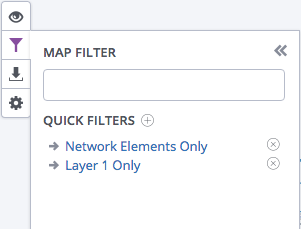 Choose from preconfigured filters to quickly isolate particular aspects of your map.
Network Elements Only: Shows only your network elements, including any switches, and switch stacks, Layer 3 switches, routers, firewalls, access points, controllers, load balancers, and packet processors.
Layer 1 Only: Shows only Layer 1 connections. All Layer 3 connections are removed.
How to save a quick filter
From the Map Filter fly-out click the Save icon () next to the Quick Filters label
Enter a name for the new filter.
Click Save.
Once a filter has been saved, it can't be edited. To edit a saved filter, you must delete the existing filter, then create a new one.
How to delete a quick filter
Click the filter funnel to show the saved filters.
In the displayed list of filters, find the filter you want to delete. Click the Delete icon () next to the quick filter to be deleted.
Confirm the cancellation by clicking Delete.
Connection filters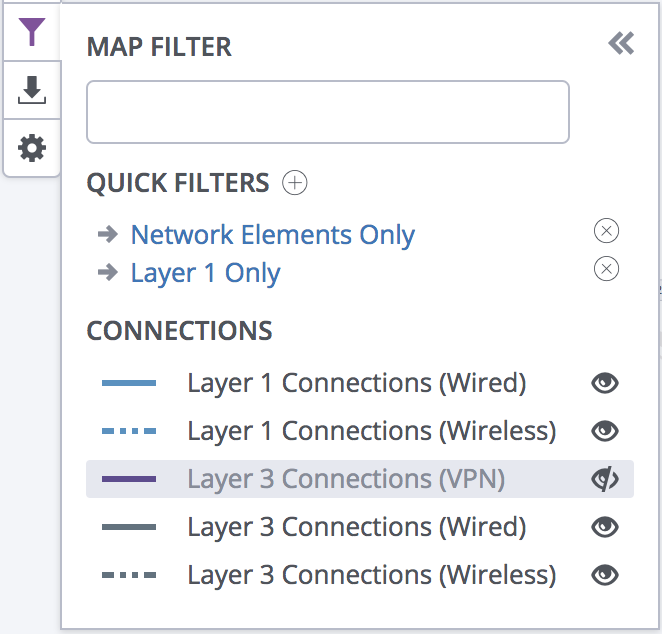 To hide certain connections on the network map, click the eye (

). To reveal the connection, click the eye (

) again.
Additional resources