When Auvik is running on a network, it automatically generates a count of the billable devices. You can see this number in the Billing section of your account, even during trial.
Every day, we log the number of billable devices on each network you're managing. At the end of the month, we average all the daily numbers to arrive at your total billable device number for the month.
Note: Removing management of all billable devices will not change the billing for those devices, you are still required to pay for the minimum committed devices. Please contact your Customer Success Manager for any questions. If you aren't sure who your CSM is, please reach out to success@auvik.com.
View billing usage
From Billing > Usage, you can see detail on which devices were considered billable on which days. For more information on filtering, see How to filter data in Auvik.
Click Settings in the side navigation bar. Click Billing.
Hover over the Billing button and click Usage from the entity navigation.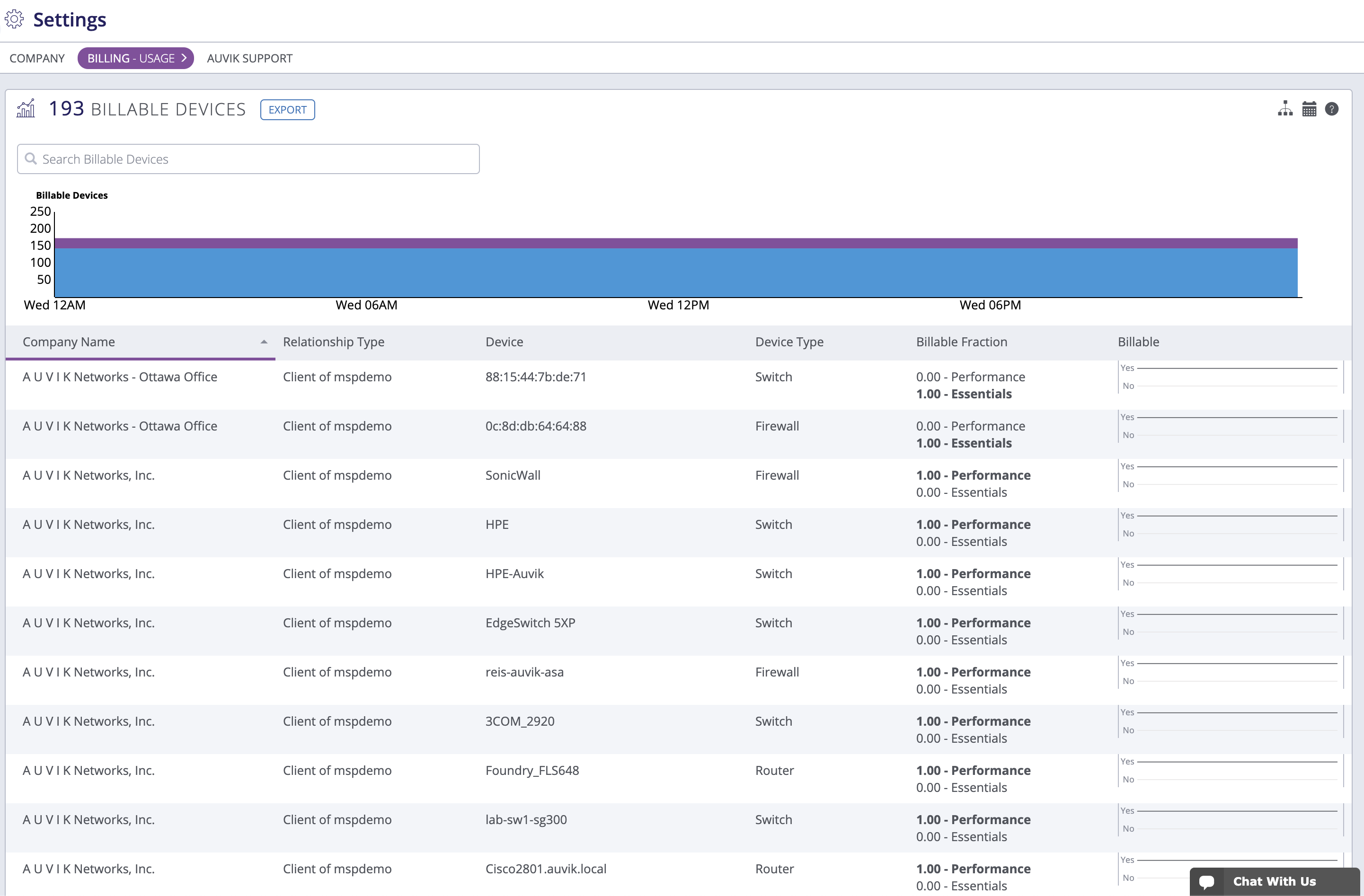 Above the table of billable devices, you'll see a bar graph. From here, you'll be able to hover over the graph to see how many devices were considered billable on a given day and how many devices are designed as Essentials or Performance.
From the list of devices, in the billable column, hovering your cursor over the graph line. A tooltip pops up to show you the billable status.
Filter clients
By default you will be presented with a full list of all client devices for the period of yesterday. You can filter out the clients listed, to narrow down the details presented.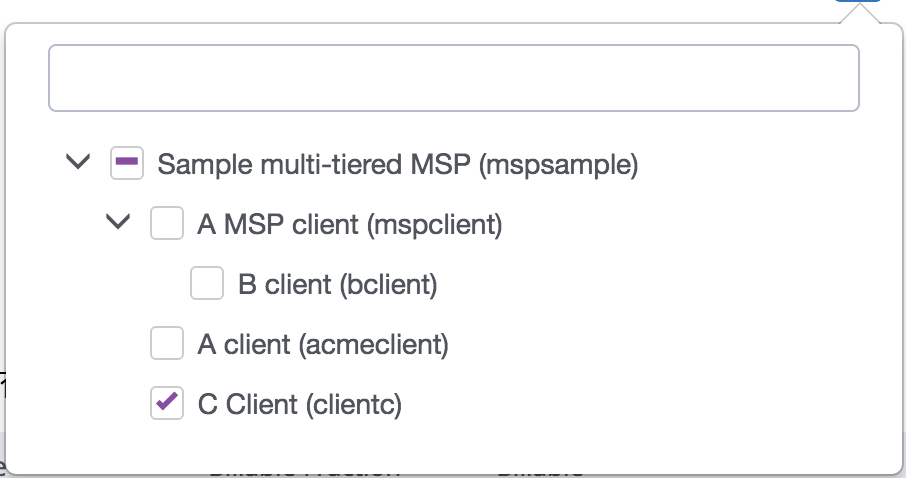 Click the tree icon (), to filter the list of clients listed
For more information on filtering, see How to filter data in Auvik. Uncheck the clients you want to exclude from the list. Once a filter has been applied, the icon will appear highlighted ().
Billing period range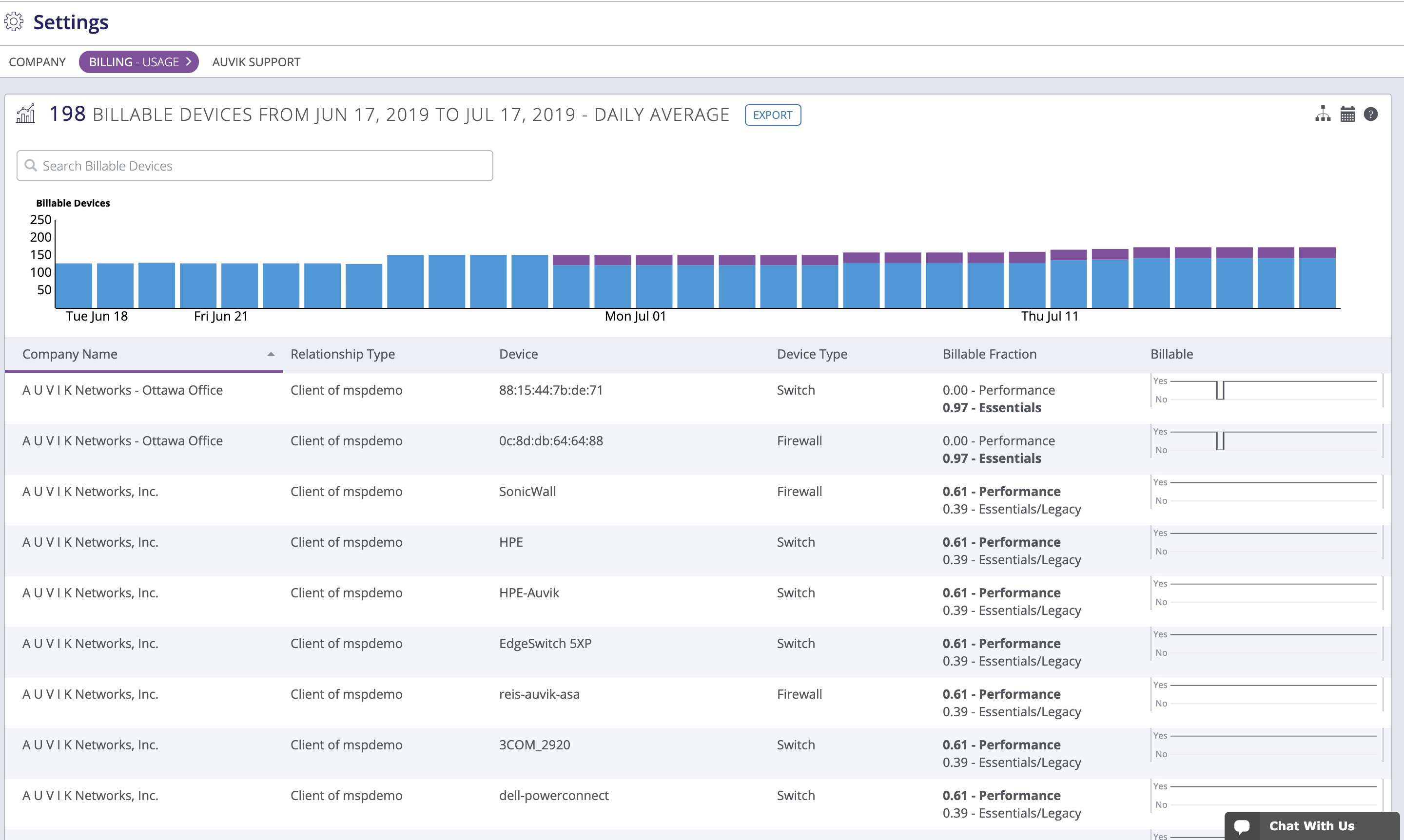 Click the calendar icon ()
Select the billing period

Yesterday
Last week
Last invoice
Last two invoices
Custom Range *

Click Accept
* When selecting a custom range, you're only able to select 90 days at a time, and can't select a date before January 1, 2017.
Export billing usage
Billing usage is exported to a Microsoft Excel spreadsheet (.xlsx). The export is broken into a separate worksheet per client. Each worksheet contains the following detail:
Company name
Relationship type
Device name
Device type
Billable fraction (Performance)
Billable fraction (Essentials)
Billable fraction
Billing usage date (a single date column appears for each date being extracted in the selected range)