Imagine that you received a call today and you were asked the following questions:
Why is my internet slow?
Who's hogging bandwidth and slowing down the network?
Who's using banned applications (such as BitTorrent or other video streaming software)?
Why is a web server receiving so many connections from a sanctioned country?
What was a hacked server connected to during an infection?
Why is an inconspicuous IoT device sending suspicious communications outside of the network?
Did you know that with Auvik you can have deep visibility into traffic flows across your networks? Auvik can help you easily identify the answers to these questions so that you can quickly figure out an appropriate response. Spare your network users from prolonged downtime by streamlining your troubleshooting process and reducing your mean time to resolution.
With Auvik TrafficInsights you'll know…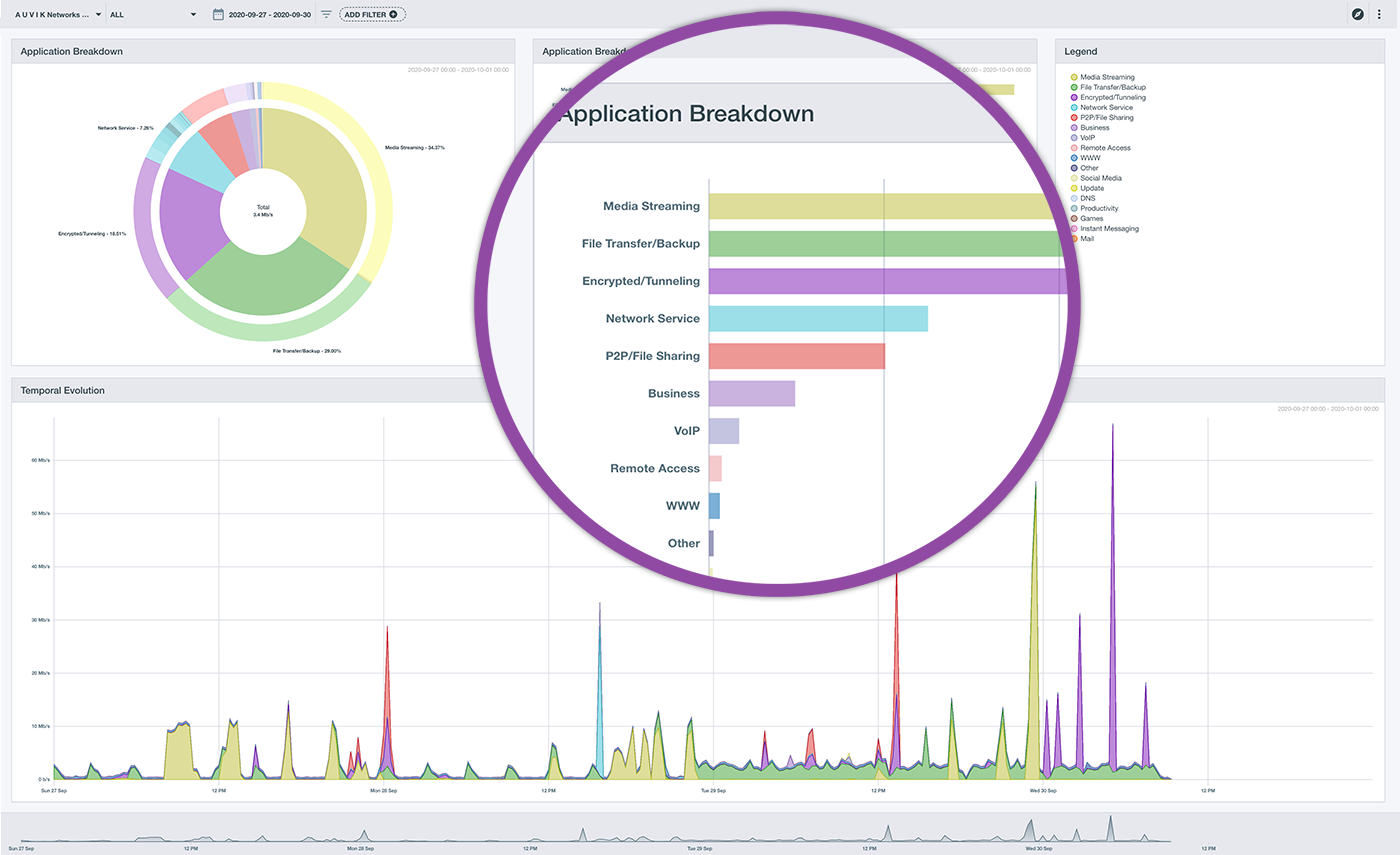 WHAT: Applications currently being used on your network and if they're business-critical
TrafficInsights leverages machine learning and traffic classification to show you which applications—like Dropbox, Netflix, or Slack—or protocols are using up the bulk of the network's bandwidth so you can confidently make the case for a network upgrade or expansion.
WHO: The devices using those applications that are hogging all the bandwidth
When investigating a network traffic spike retroactively or in real-time, you can immediately identify who's behind the bandwidth hogging using easy-to-read charts showing top source addresses, destination addresses, conversations, and ports.
DEEP VISIBILITY: Dig into device flow data for more insights 
If the analyzed data in the applications and protocols, top talkers, and geolocation views isn't quite enough to solve your issue and you need to dig deeper, you can dive into sampled flow records for all the information you need.
Resources:
TrafficInsights Two-pager Summary
Ebook: Keeping Networks Healthy & Secure With Auvik TrafficInsights™
Case Study: IT Central Station
Training:
Getting in Deep with TrafficInsights and Syslog
Videos:
How to Track Network Traffic Spikes with Auvik (2:25 mins)
5 Ways to Troubleshoot Faster, Boost Security, and Upsell Clients with Auvik TrafficInsights™(43:16 mins)
Blogs:
Building Auvik Into Your MSP's SOP (Video)
Auvik TrafficInsights: How to Solve Network Cases Like a Super Sleuth
Reducing Mean Time to Resolution with Auvik TrafficInsights and Syslog 
Auvik Use Case: Gain Visibility Into the Internet of Things
NetFlow Basics: An Introduction to Monitoring Network Traffic
Defending Your Network Infrastructure Against Attack
sFlow vs NetFlow: What's the Difference?
How to Dig Deeper on the Network When You Don't Have NetFlow 
Knowledge Base:
How do I launch the TrafficInsights dashboard?
Device configuration for Auvik TrafficInsights
"We were able to identify traffic from an application that would have caused over usage of a circuit and ultimately our cloud services production. TrafficInsights gave us the visibility we needed to shape the traffic and avoid a service issue." – Devon Stephens, Sales Engineer, Net3 Technology, Inc.
"One of our customers was experiencing network performance issues and TrafficInsights showed us exactly what was causing the issue. It turned out the firewall was being taxed by storage traffic. We moved this traffic off the device and instantly improved the client's connectivity." – Patrick Garman, Field Service Manager, WBM Technologies Inc.
"I was able to locate a device that was communicating with China for no reason. I was extremely impressed with how quickly I could find what I was looking for, and we resolved the issue by adding a geo-restriction rule to the firewall. Best NetFlow data interface I've used so far." – Adam Peterson, Real IT Solutions, Inc. 
"Its TrafficInsights feature shows the network bandwidth usage without the need for expensive, in-line traffic decryption. Most of the time, I'm able to get a pretty detailed kind of report or visionary on it. This feature is extremely important. From a managerial standpoint, we wanted to know what people were doing. The pandemic was huge for a lot of work for home people, and we wanted to know what our employees were doing on their computers at home. While they were connected to the VPN, Auvik provided us the ability to see whether they were watching Netflix and things like that, or what other type of bandwidth they were taking up. It was very amazing. We were canning people over it, and we were utilizing it to kind of take a temperature of our culture.
The TrafficInsights feature is helpful in showing where your system is experiencing performance issues. When we have a network problem, I'm able to see where and what's causing it. Back in October, we had some sort of network storm on our layer 3 in Chicago, and we were able to pinpoint different types of traffic going on. It was nothing, and packets were coming back at zero bits and different bits, and it was just noise. We were able to figure out that there was a loop somewhere. We had to physically go down and examine it, but without it, we probably would have chased our tails around or spent a lot more money than we did to resolve the issue.
The TrafficInsights feature has helped in improving our network performance. It improved our understanding of the network and what was going on. It helped us utilize other tools that were in place to block traffic, allow different traffic, or redirect different traffic." – Andy Streske, Chief Executive Officer, Shield Technologies