ENHANCED! HTTPS and HTTP port support
Auvik now allows users to specify whether HTTPS or HTTP should be used for port check configurations. Previously, ports 443 and 8443 were the only options for HTTPS port checks and remote browser sessions. All other ports were supported, but only through HTTP.
The port check configuration has a new Check Type option where you can select either HTTPS Get to use HTTPS protocol, or HTTP Get to use HTTP protocol, regardless of port number set.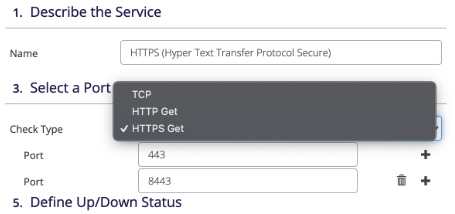 IMPROVED! Device identification
We've improved identification for 20 new switches and four firewall devices including models from: Alcent-Lucent, Amer, Fortinet, WASP POE, and Konica Minolta printers.
RESOLVED! Sophos device backup
We've resolved issues with Sophos UTM/SG devices capturing backups when no changes were made. Now the changes that are not related to device configuration are excluded.
FIXED! Endpoint MAC address
We've resolved an issue where available ARP data was not used to apply MAC addresses to endpoints, which caused some device connections to not display properly on the topology map. We added relevant reference to subnet data to correctly render ARP data in Auvik.