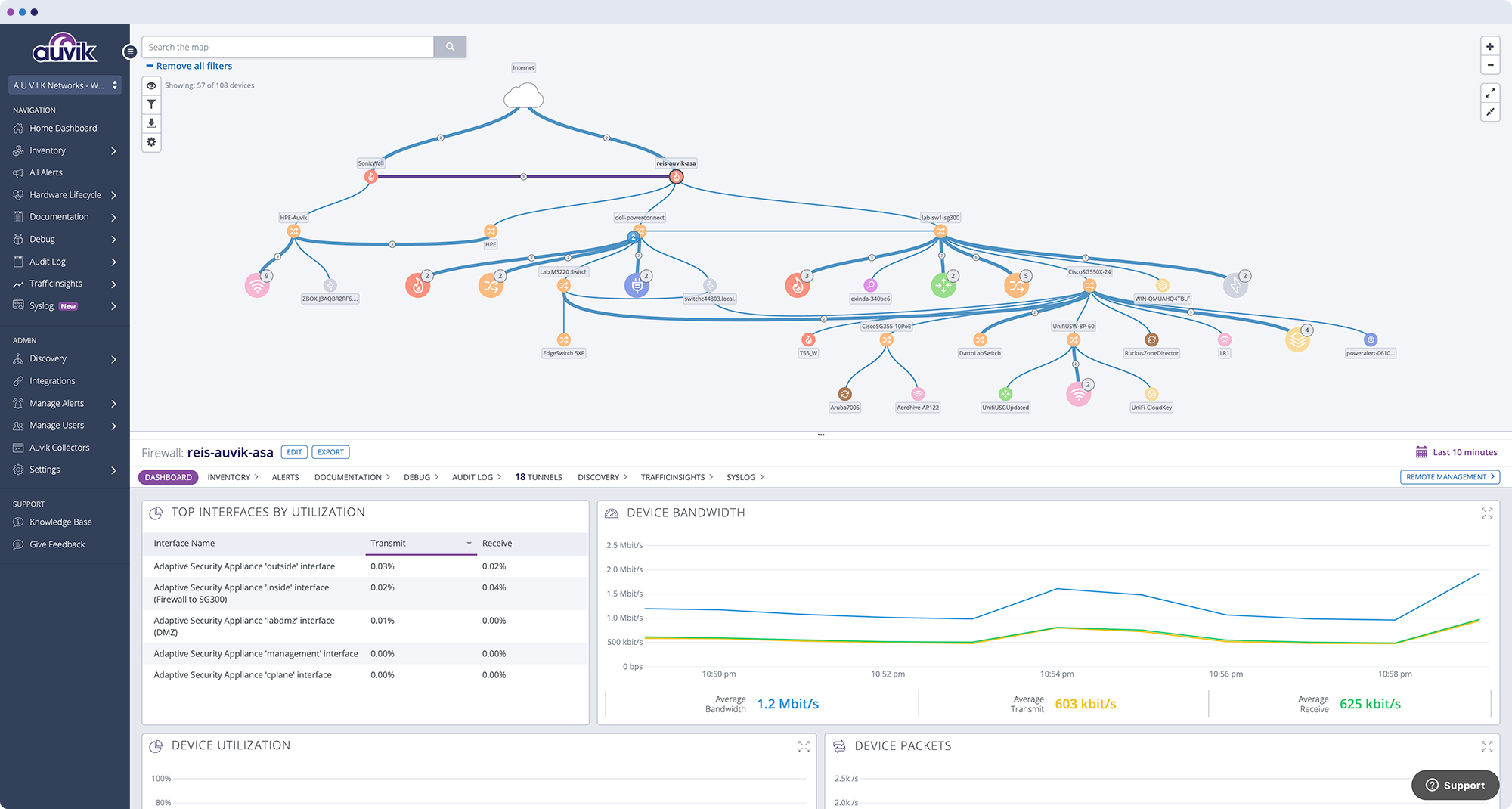 Does your map look like this?
In general, a successful deployment happens when 90% of the devices on your map are connected with blue wires, or when the majority of the network is fully discovered and the correct device types are displayed and recognized by Auvik. With the right credentials on hand, you can have a more complete map within minutes.
The first step to getting the most value out of Auvik starts with providing Auvik with credentials for your devices beginning with SNMP.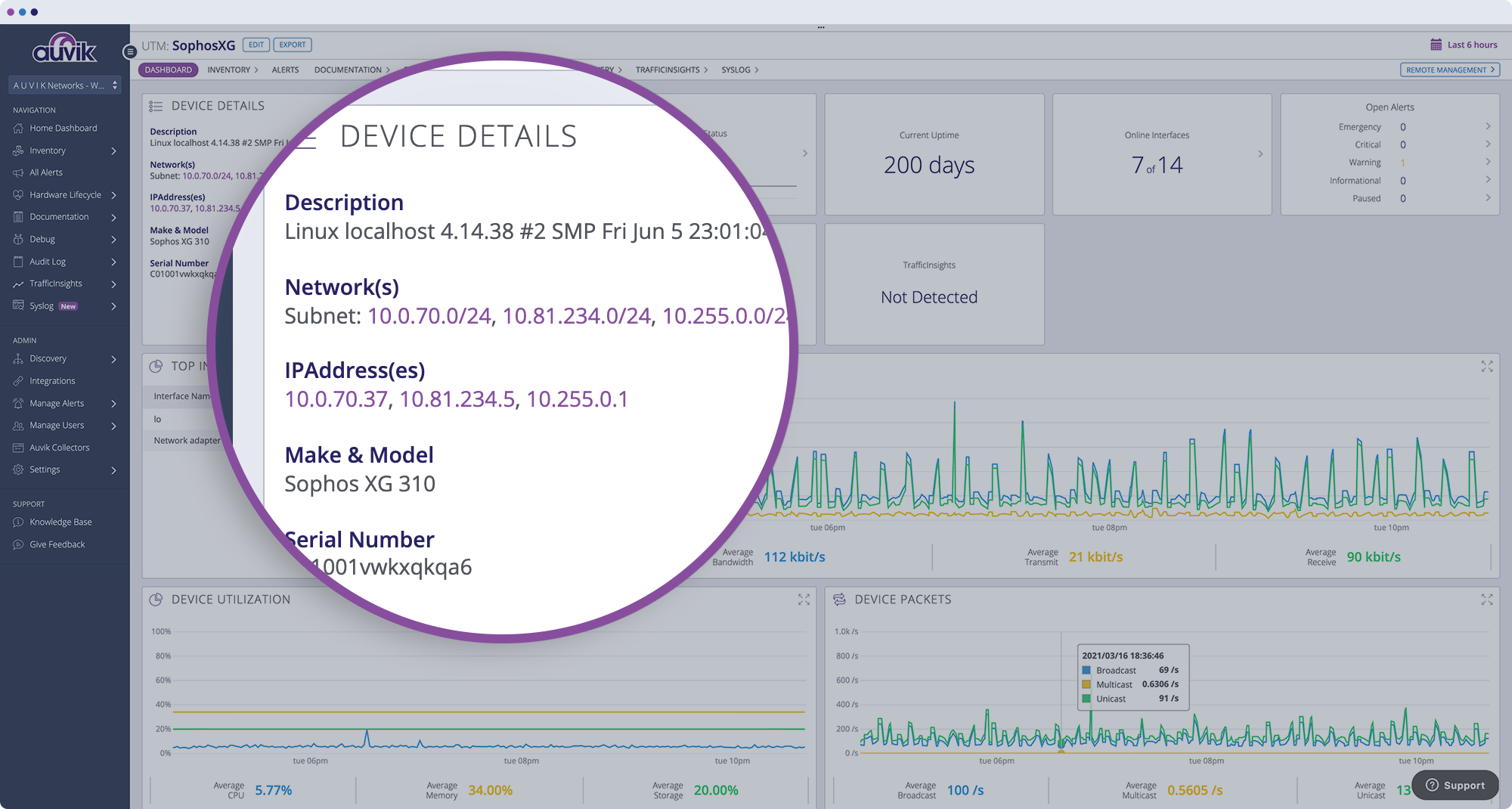 SNMP is not automatically enabled by default on devices. In most cases, you have to login and turn it on in order to make SNMP data available. This reduces the risk of running an insecure SNMP version without realizing it.
Harness the power of SNMP, along with advanced protocols including flow, for true intelligent network monitoring and management. Watch this short 1 minute video on adding credentials within Auvik.
Getting more value out of Auvik means:
Understanding your network dependencies, inventory, and resource utilization trends, by visualizing the network and all its components from high-level down to individual devices making it easier and faster to make decisions.

Understanding performance, identifying weak points, and adjusting bottlenecks and flows in real-time.

Accessing critical documentation that will help you identify which rack space, device, and connection needs to be worked on.

Being compliant with up-to-date network topology maps that identify all connections and/or data flows within the relevant network.

Gaining greater network security by keeping up with the latest patches, firmware updates, bug fixes, and updates all through automation.

Implementing configurations and configuration changes remotely.

Reducing human error during additional pre-change workflows and post-change validations.

Increasing efficiency so you can speed up network changes and leverage cost savings.

Quickly, clearly, and unambiguously communicate a lot of information to various stakeholders so that you can focus on addressing problems.
So what does success look like? It can look like this:
You have full visibility and a detailed inventory of the most important systems that make up your network.

Your network map should have predominantly blue wires (showing layer 1 to 3 connectivity) rather than a map with mostly black wires (showing layer 3 only).

Your network map does not mainly consist of icons showing a grey circle with a lightning bolt - meaning your devices haven't been identified.

As network discovery is ongoing, any blue banners at the top of the page identifying new devices that require SNMP should be actioned. Follow the prompts to enable and add credentials.

You have access to detailed device documentation and visual representations of your infrastructure uncovering network complexities and gaps.

You have a record of your configuration documentation as well as backups.

You are keeping an eye on traffic flows in and out of your network - do not depend entirely on firewalls and internet filters to keep intrusions out.

You are able to evaluate devices and equipment necessities, understand system dependencies, and identify vulnerabilities in the network.
Additional resources to help you:
A final note: Once you've added as many SNMP credentials as you can to start, continue to add your Login credentials, WMI credentials, VMware as well as any API credentials. Remember that the more credentials you provide to Auvik, the more visibility and troubleshooting capabilities Auvik can provide.
Login now and enter your SNMP credentials to gain complete visibility of your network, and start getting the full value out of Auvik.
"Login to Auvik and Add SNMP Credentials"
"SNMP is critical because I can actually see inside VMware servers. With other platforms, that is very hard to find. I can see through a RAID set. The value is from the in-depth monitoring and the ability to see inside the hardware, rather than just if it is available or not. And in a Microsoft domain, it will tell me if there are any replication issues between domain controllers. It will tell me if there is a status issue. It's very handy." – Jason Johnson, President, Johnson Business Technology Solutions, Inc.
"Auvik allows us to map networks quickly. Once core networking devices (switch, routers) are configured with SNMP, Auvik has demonstrated it can accurately [and] clearly create a logical view of the network. I'd rather spend a little time upfront setting up SNMP instead of chasing CDP neighbors and looking in ARP tables to figure out where a device is connected." – Alex S., Senior Systems Engineer
"We've deployed it at 20 different customers so far, and there was probably one instance where we needed to make some network changes for it to work. For most customers, we needed to add SNMP credentials and things like that, and generally, it just worked. When we get the correct credentials in place, after the collector is implemented, network mapping starts to populate immediately." – David Laureys, MSP Technical Lead at Integra Business Center, Inc.
"The initial setup to install a collector takes about 10 minutes. Within 10 to 20 minutes after that, you can have your topology built. Of course, you have to configure the devices to the SNMP, so it can grab the information. The whole process to get a rock-solid topology will take two hours or so. You have to engage the customer to do additional configuration on the devices. But if they have that configuration done ahead of time, it won't take more than one hour." – Ayoub Chabrouk, Sr. System Engineer at General Microsystems Inc.
"Another benefit is that it automatically updates network topology. When I change out parts of the network or upgrade to a new device, once I've got it set up with SNMP, it automatically reconfigures what I see on the screen, including where everything is connected. I don't have to do anything to make that happen. That saves me a lot of time." – Jon Douglas, Information Technology Specialist
Your success is important to us. If you have any questions or need help with your deployment, please reach out to Support.
-Your Customer Success Team